While most share basic features — real-time visitor tracking, click counters, social media monitors — the platforms compiled here all have uniquely distinguishing features. Listed below are standout analytics-tracking options, what makes them shine and, when appropriate, what they're missing.
Distinguishing feature: "Engaged Time" metric goes beyond how much time users spend on a page to distinguish how much time readers spend actively engaging with content on the website. This information is not based on clicks but "pings" from users' browsers every few seconds that indicate users' activity.
What it's missing: Archived data—Chartbeat details what's happening now and what happened earlier today, but the lack of archived data makes it hard to put editorial decisions in historical context.
Price: Price plans from USD$220-$1,100 per month
Customers: The New York Times, the Guardian, Gawker Media, Forbes
Visual Revenue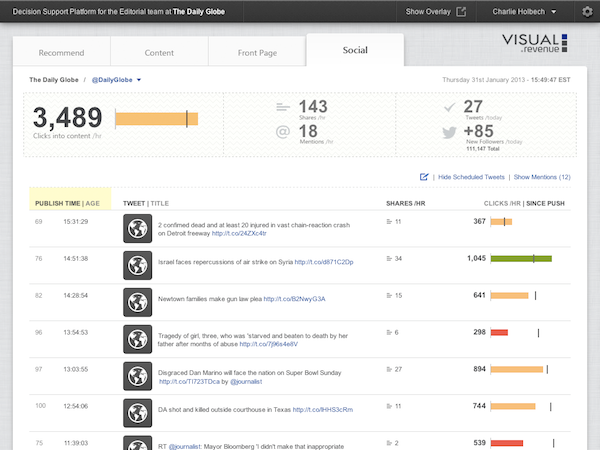 Screenshot credit: Nieman Lab
Distinguishing features: 1) Instant headline and image testing software allows editors to provide two choices of headlines or lead photos, and the system collects data to determine which attracts the most readers. The platform then automatically uses the more effective headline or image. 2) Publisher can personalize the dashboard to their own preferences. 3) Publishers can automate certain processes to keep the site fresh and updated even while web editors are off-duty.
Price: Varies
Customers: The Sun, Le Monde, The Independent, London Evening Standard
Screenshot: Best Vendor
Distinguishing features: 1) Predictive analysis engine scours the web to see which topics are on the cusp of trending and recommends them to editors. 2) Advanced tracking monitors authors, topics, tags and sections.
Price: From USD$499 per month
Customers: Reuters, The Atlantic, The Dallas Morning News, The New Republic
Analytics 10 by Webtrends
Distinguishing feature: This platform seamlessly integrates data from websites, Facebook pages, Facebook apps, mobile websites and iOS, Android, Blackberry and Windows 7 apps, among other add-ons. Not assuming that users consume content the same way on all devices, Analytics 10 facilitates understanding platform-specific habits and strategizing accordingly.
Price: Varies
Customers: The Telegraph, eMarketer, Incisive Media
Screenshot: eBiz ROI, Inc.
Distinguishing features: 1) Google Analytics provides far more detail than most other platforms. For instance, it doesn't just tell you the number of visitors from the U.S.; it provides an interactive map that shows how many visitors are from different states and even cities. 2) It takes only minutes to install: just insert a tracking code snippet into your site's source code.
What it's missing: 1) Real-time data—Google markets Premium as an upgrade from the free version because its less-than-4-hour processing delay "98% of the time." But many other analytics platforms provide nearly instantaneous feedback. 2) Cross platform integration— Google Analytics Premium only details activity happening on a website, not its associated social accounts, as most other analytics platforms do.
Price: USD$150,000 per year
For more information about how analytics are affecting editorial decisions, look out for WAN-IFRA's upcoming Shaping the Future of News Publishing report on data.