A worldwide cost-of-living crisis, a war in Europe, and worsening climate instability. Like many industries, the news media is faced with a combination of challenges that shake the status quo and only add to the disruption caused by the Coronavirus pandemic.
Given the global context, "a strong supply of accurate, well-funded, independent journalism remains critical, but in many of the countries covered in our survey, we find these conditions challenged by low levels of trust, declining engagement, and an uncertain business environment," the latest edition of the annual study by the Reuters Institute for the Study of Journalism notes in its introduction.
Rasmus Kleis Nielsen, one of the authors of Digital News Report 2023, will join WAN-IFRA's World News Media Congress 2023 to discuss the trends highlighted in the report.
We have summarised some of the main findings below. The full study, including extensive country profiles, is available here.
Platforms' role as gateways to news is evolving
A large part of the report is dedicated to the changing ways people access news content, and specifically how in today's media ecosystem social media networks act as news discovery platforms. Facebook remains the most important social media for news, although its significance has declined significantly since its peak: currently, 28% of respondents say they use Facebook for news, while in 2016 that figure was 42%.
Some of this decline is explained by the way video-based social media such as YouTube and TikTok have captured much the attention of younger audiences. However, users on platforms such as TikTok, Instagram and Snapchat tend to follow celebrities and influencers, and pay less attention to journalists and news media, even when it comes to news topics. On Facebook and Twitter, on the other hand, journalists and news organisations still have a stronger presence as news sources.
Taken together, platforms have solidified their role as the main gateway to news, while the portion of users who directly access publishers' websites and apps continues to decline. Only 22% respondents prefer to start their news journey with a website or app (down 10 percentage points since 2018), while 30% prefer to use social media to access news.
This trend is particularly strong among younger people: the so-called "social native" generation is less connected to brands' own platforms and is more likely to use social media or other intermediaries, rather than going directly to a news site or app.
Economic downturn has intensified business pressures
The declining economic situation that is being felt across markets around the world is impacting news publishers on several fronts. The report notes that given the current difficult economic period, "it is not surprising that many traditional publishers have been trying to refocus on recurring reader revenue models such as subscription and membership."
But there may be cause for concern when it comes to attempts to grow the share of reader revenue in the future. Based on the data collected from 20 richer countries in the sample, the average proportion of respondents paying for online news is 17% – for the second year in a row. Growth in this area has stalled also on a country level in many of the analysed markets.
Although the headline figures on paying for online news are mostly unchanged, there is "a large amount of underlying change, much of it driven by cost pressures", the report notes, as news audiences reassess their subscription options in the context of the current economic situation.
More than one in five (23%) have cancelled a news subscription in the last year, while another 23% have negotiated a cheaper price. The respondents gave the cost-of-living crisis and the wish to save money as the main reasons for cancellations.
The study also asked what would persuade those who do not pay for online news to take a subscription. Some respondents might pay for news content if they perceived more value in it (22%), while others say a cheaper price (32%) or an ad-free option (13%) might persuade them to pay for online news.
However, a large proportion of those who do not pay for online news say that nothing would persuade them to pay. On average, this is the case with 42% of the respondents, with the biggest country-level figures being in the UK (65%) and Germany (54%).
Multimedia formats engaging younger audiences
Although most news consumers prefer to read the news (57%), the report highlights the growth of audio and video formats (preferred by 13% and 30% respectively), especially when considering the news consumption habits of younger audiences.
Even in countries with strong reading preferences, the patterns are different for 18–24-year-olds, who may still prefer text but have a stronger preference to listen or watch news than older age groups. Video content, however, is mostly consumed via YouTube, Facebook or other third-party platforms, as opposed to news companies' own websites or apps.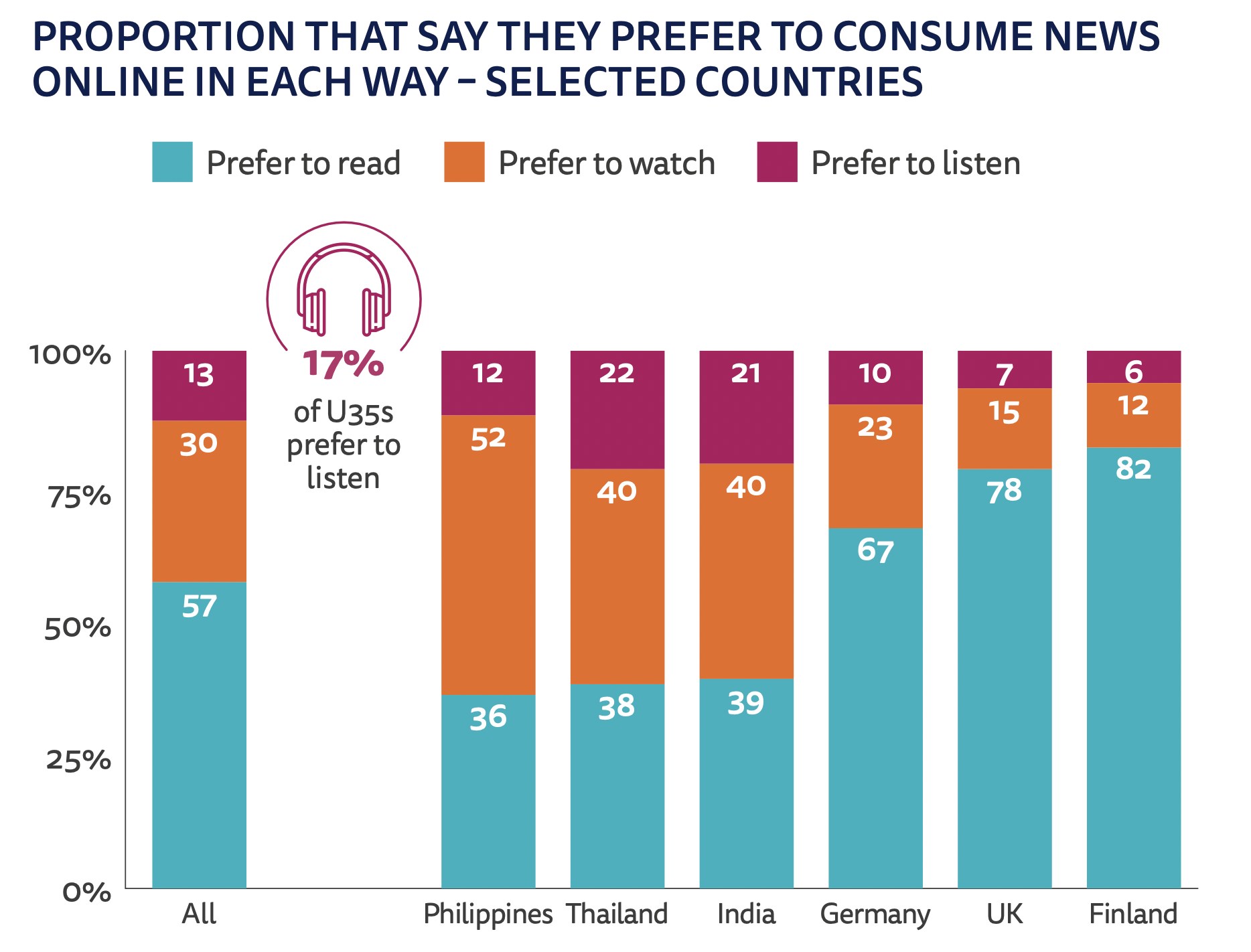 Preferences naturally vary between markets and are partly influenced by the rise of video-based social networks such as TikTok, Instagram and YouTube. In many Asian countries, the report points out, "populations tend to be younger, mobile data tend to be relatively cheap, and video news is widely available via platforms such as YouTube and TikTok."
News podcasts, on the other hand, make up a relatively small proportion of podcasts in general, but there is a growing number of examples with publishers using podcasts to build loyal relationships with their users while also attracting new audiences. On average, 34% of respondents said they listen to podcasts monthly, but especially younger age groups are much more likely to access podcasts.
Other key findings
News avoidance and declining lack of interest in news continue to be major challenges for publishers seeking to find and engage new audiences: overall 36% of respondents say they actively try to avoid the news. People in this group avoid news sources in general (53% of avoiders), consciously check news less often (52%) or avoid certain topics (32%).
Trust in news continues to decline, down 2 percentage points from the previous year, which suggests that the increase that took place during the Coronavirus pandemic may have been only a temporary upswing. On average, 40% of respondents say they trust most news most of the time. The results differ widely across markets, with news consumers in Finland having the highest level of trust in news (69%) and in Greece the lowest (19%).
Participation in news online has not panned out as some expected with the emergence Web 2.0 (the social web). In fact, many measures of open participation (sharing, commenting) have declined across countries, with a minority of active users making most of the noise. 22% of respondents say they are active participators online, while around half (47%) say they don't participate in news at all.
Read the full report Digital News Report 2023 here.