Through our externally funded media support programmes, WAN-IFRA directly engages with a network of media partners in 20+ countries to facilitate bespoke, locally-driven solutions to safety concerns and media freedom challenges. Our network of Media Freedom Committees actively contributes to the design and implementation of safety trainings to ensure maximum relevance and provide unprecedented access for local journalists.
Together with our professional training partners and through collaboration with the ACOS (A Culture of Safety) Alliance and the international civil society coalition on the Safety of Journalists, WAN-IFRA actively contributes to the global discourse to better protect journalists wherever they work.
WAN-IFRA is also committed to supporting the implementation of the UN Plan of Action on the Safety of Journalists and the Issue of Impunity.
See below for more information on our range of safety initiatives.
---
Certified Journalist Safety Training Course (Online Version)
A self-paced certified safety training course for journalists to be completed online over a three-week period.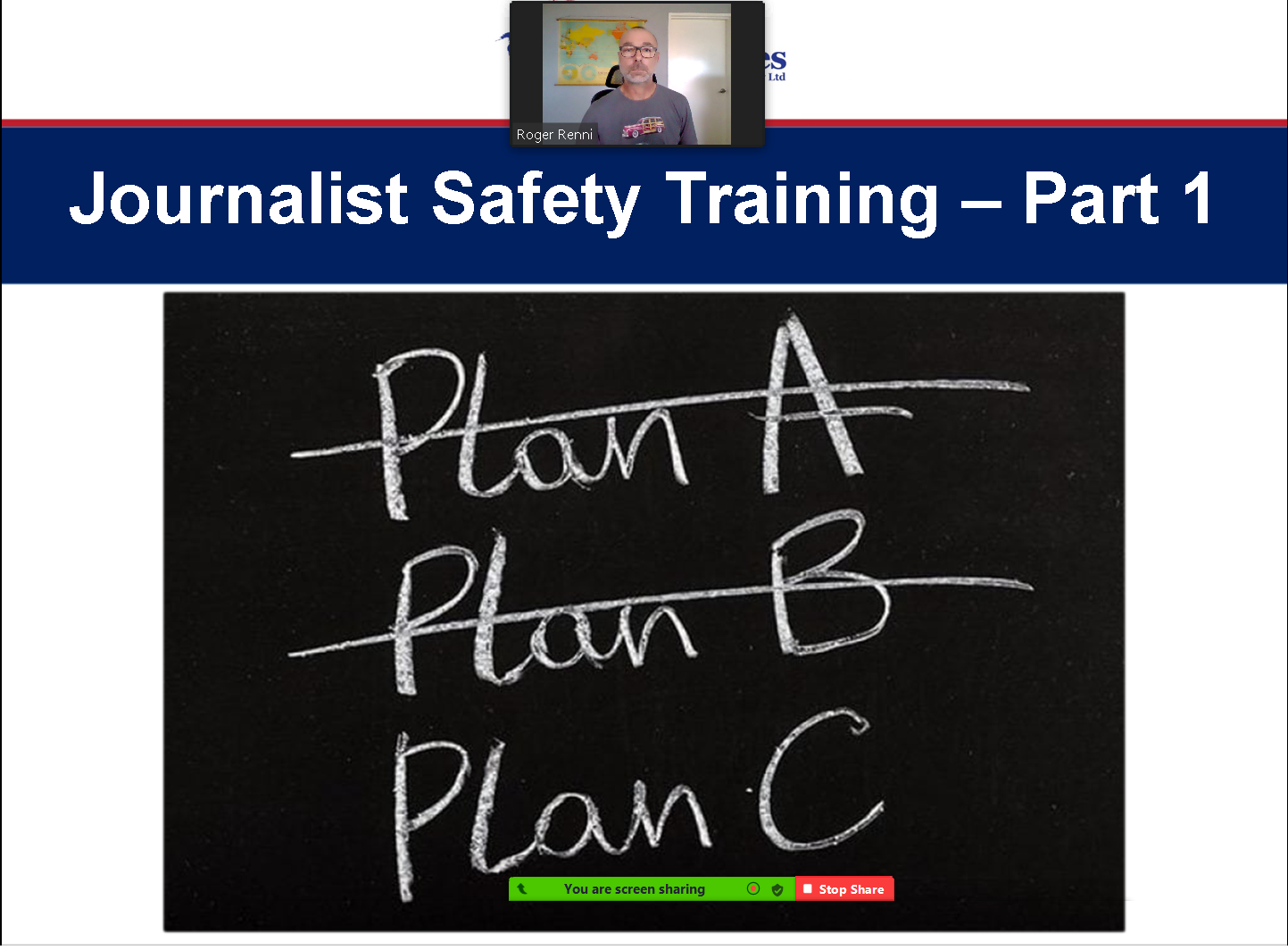 Delivered by our expert trainers from Key Objectives, the course has been developed by WAN-IFRA and the ACOS Alliance to respond to the basic safety needs of journalists anywhere in the world.
It is led in conjunction with WAN-IFRA's local Media Freedom Committees.
Each course offers bursaries to 20 participants who gain a better understanding of the skills needed to keep safe on the job. Each course is divided into three modules:
Week 1. Planning and Preparation
Week 2: Working in Challenging Environments
Week 3: First Aid and Emotional Well-being
Each module is followed by an interactive live webinar including context-specific scenario exercises to address questions and consolidate the learning objectives. 
The course also includes: 
Virtual classroom instructional presentations and demonstrations 
Video clips and imagery 
Online quizzes 
Information sheets and reference guides
Reference links to useful and informative resources
Three interactive instructional live webinar sessions
Technical support and outreach to trainers for the duration of the course 
The topics are delivered by expert instructors with significant on-the-ground experience. Thanks to the input of WAN-IFRA's local Media Freedom Committees, the content of each course is tailored to the specific safety challenges present in each country, ensuring the relevance of the training for the selected participants.
In order to receive certification, it is compulsory for participants to fully complete all parts of the course and attend the live webinars.
New opportunities to apply coming soon.
---
#SaferMedia programme: News Organisation Safety Assessments
The key to effectively dealing with any crisis is good preparation. When it comes to keeping journalists safe, nothing is closer to the truth. The WAN-IFRA #SaferMedia project guides media partners through all the aspects of safety worth considering for their newsrooms and their journalists. 
We engage respected regional and international safety experts to work with your newsroom to develop and instil safety procedures and daily practices that have an impact.
The aim is to closely examine the skills and resources media organisations already possess and to complement these with a range of targeted and individualised support to encourage media companies to think – and act – safety first.
With our expert partners at SEPAR International, WAN-IFRA has developed a comprehensive organisational safety audit that we are currently conducting with media partners across Africa. Learning more about current capacities and existing approaches to safety and security allows us to tailor effective, meaningful and relevant support across HR, newsroom, editorial and business teams, as well as building and digital assets.
---
Safety trainings 2021-2022:
| | | | |
| --- | --- | --- | --- |
| AFRICA | | | |
| Botswana | Certified Safety Training | April | 2021 |
| | Digital Safety Training | June | 2021 |
| | LH (Online Harassment Training) | September | 2021 |
| | Online Harassment Training | November | 2021 |
| | ToT on Digital Safety and Online Harassment | August | 2022 |
| | | | |
| Kenya | Digital Safety Training | July | 2021 |
| | LH (Online Harassment Training) | September | 2021 |
| | Online Harassment Training | November | 2021 |
| | ToT on Digital Safety and Online Harassment | August | 2022 |
| | | | |
| Malawi | Digital Safety Training | June | 2021 |
| | LH (Online Harassment Training) | September | 2021 |
| | Online Harassment Training | December | 2021 |
| | ToT on Digital Safety and Online Harassment | August | 2022 |
| | | | |
| Rwanda | Digital Safety Training | June | 2021 |
| | LH (Online Harassment Training) | September | 2021 |
| | Online Harassment Training | September | 2021 |
| | ToT on Digital Safety and Online Harassment | August | 2022 |
| | | | |
| Somalia | ToT on Digital Safety and Online Harassment | August | 2022 |
| | | | |
| South Sudan | ToT on Digital Safety and Online Harassment | August | 2022 |
| | | | |
| | | | |
| South Africa | Certified Safety Training | August | 2021 |
| | | | |
| Tanzania | Digital Safety Training | July | 2021 |
| | LH (Online Harassment Training) | September | 2021 |
| | Online Harassment Training | November | 2021 |
| | ToT on Digital Safety and Online Harassment | August | 2022 |
| | | | |
| Uganda | Certified Safety Training (3) | April and May | 2021 |
| | Digital Safety Training | June | 2021 |
| | LH (Online Harassment Training) | September | 2021 |
| | Online Harassment Training | November | 2021 |
| | ToT on Digital Safety and Online Harassment | August | 2022 |
| | | | |
| Zambia | Certified Safety Training (2) | April and May | 2021 |
| | Digital Safety Training | June | 2021 |
| | LH (Online Harassment Training) | September | 2021 |
| | Online Harassment Training | November | 2021 |
| | ToT on Digital Safety and Online Harassment | August | 2022 |
| | | | |
| Zimbabwe | Digital Safety Training | June | 2021 |
| | LH (Online Harassment Training) | September | 2021 |
| | Online Harassment Training | October | 2021 |
| | ToT on Digital Safety and Online Harassment | August | 2022 |
| | | | |
| | | | |
| | | | |
| Indonesia | Certified Safety Training | May | 2022 |
| | Digital Safety Training | March | 2022 |
| | Online Harassment Training | March | 2022 |
| | ToT on Digital Safety and Online Harassment | August | 2022 |
| | | | |
| The Philippines | Certified Safety Training Mindanao | July | 2021 |
| | Certified Safety Training | March | 2022 |
| | Digital Safety Training | March | 2022 |
| | Online Harassment Training | March | 2022 |
| | ToT on Digital Safety and Online Harassment | August | 2022 |
| | | | |
| Myanmar | Online HEFAT Training (2) | August and October | 2021 |
| | Digital Safety Training | March | 2022 |
| | Online Harassment Training | March | 2022 |
| | | | |
| Vietnam | Digital Safety Training | March | 2022 |
| | Online Harassment Training | March | 2022 |
---
Feedback – Certified online training:
100% of respondents have applied the skills acquired during the certified safety training 
100% would recommend the course to their colleagues
"During the chaotic Matungu by-election, we found ourselves in the middle of ugly scenes but I put into action all skills learned to protect myself and my colleagues."
Participant, Kenya, November 2020
"I have shared some of the knowledge I found very useful in small gatherings of the women photographers' community here in Indonesia, and am happy to let you know others have found it useful as well!"
Participant, Indonesia, September 2020
"I am very grateful as the training has helped me gain back my self-esteem. In 2017 I was hurt while on duty, and as I had no safety training I really suffered and developed fear when covering stories related to elections and protest. After this training, I have been able to cover five demonstrations and two violent elections. Thanks for helping me realise how I can have the story and at the same time be safe and help people near me to be safe too."
Participant, Kenya, November 2020
---
CONTACT INFORMATION
Andrew Heslop
Executive Director – Press Freedom, WAN-IFRA
Paris, France