Of course, we hear figures from the bigger global brands that show glimmers of hope, but we have to keep in mind that what works for one or two isn't necessarily going to work for everybody.
More recently, we've even seen a demonstration of the power of the individual brand, after Andrew Sullivan collected over $300K from loyal fans within just 24 hours after announcing his plans to move his blog, The Dish, to an independent, reader-supported model.
To date, most paywalls follow one of three models: The hard paywall (à la Times of London), the metered paywall (à la New York Times), and the freemium paywall (particularly popular in Europe, only certain sections of a site are deemed premium content, such as local news for Berliner Morgenpost). In Poland, however, the daily newspaper Gazeta Wyborcza wasn't satisfied with just one of the above, and so it adopted an unusual mix-and-match approach for its paid online content strategy.*
From weekly supplements to supplementary revenue
As one of the largest daily newspapers in Poland with a paid circulation of more than 300K, Gazeta Wyborcza had a well-established brand and a portfolio of successful print supplements that appeared in the paper throughout the week. So when Michał Gwiazdowski (@MiGwiazdowski), digital content publisher at Gazeta's publisher Agora, decided to make the shift to charging for content online, he identified these supplements as the first thing to charge for. Gwiazdowski explained to me during a call that this was an appeal to what readers were already familiar with: the products that they already valued. "People pay for magazines that have a physical counterpart," he specified.
In May of last year, Gazeta launched its first paywall for the paper's weekend magazine/supplement. What readers see online is a 1:1 copy of the print product, slightly enhanced with "audiovisuals". So each week when the magazine is prepared, journalists also write shorter versions of some stories, which Gazeta publishes outside the paywall to heavily promote the paid product, as Gwiazdowski describes it.
And then there were two
Poland is one of a few European countries that enjoys a national paywall for its press, an initiative powered by Slovakia-based Piano Media. It's a straightforward idea that tries to simplify the user experience: a single payment on any one news site grants a user access to all the country's biggest newspaper websites at no extra charge. Piano's CEO, Tomáš Bella (@kvasinka), is very transparent about how the idea came about: "We basically copied the cable TV system for journalism."
This approach means that Piano can monitor data across all sites, specifically about which content works best behind the paywall, and then offer this insight to participating publishers, advising them about how to best drive up subscription revenues without hurting overall online readership. It's a pretty convincing offer in a time when the industry worldwide is looking for proven ways to increase revenue from online operations.
So, in September of last year, Gazeta Wyborcza launched its second paid content offer online by joining the Piano Media national paywall for Poland.
The why, and the what now?
In a post on the INMA website, Gwiazdowski laid out the short-term, medium-term, and long-term reasons behind Gazeta's decision to begin charging for content online. In the immediate future, it's about gaining experience with paywalls, he said; in the medium-term, Gazeta wants to change people's mindsets to accept paying for quality journalism online; in the long-term, the publisher hopes to shift its business to have subscriptions become a significant source of revenue, and rely less on advertising.
So, what experience have they gained then from their ongoing paywall experiment? One of Gwiazdowski's insights highlights what should be an important part of any publisher's paid content strategy, "Superb customer service is one of the bricks in our paywall."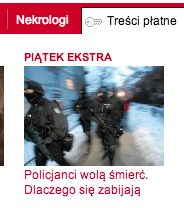 Another lesson Gwiazdowski shared with me is that using symbols to mark premium areas on the site (often we see a "key" used, like in the screen shot on the left) can actually deter visitors from accessing the sections. That's why, at Gazeta, they use the aforementioned shorter story previews outside the paywall to entice readers to pay for the entire premium experience. When I asked Gwiazdowski for evidence of the success of this double paywall strategy, he told me that "revenue from both sources (our own paywall and Piano) exceeds our expectations and we observe robust growth in paid content area".
And then there were three?
These, and other take-aways, have led Gwiazdowski to begin preparations to move forward with a wider paid content strategy for 2013. One option the paper is looking at is adding in another paid layer to Gazeta's current double-paywall strategy. This potential third paywall would blanket the entire site with a meter to target readers consuming high levels of Gazeta content online every month.
Gwiazdowski explained in an email that any new effort will work with the existing paid content strategies, and would be designed to make premium content more accessible across different channels, especially mobile and tablet. And as we well know, addressing the opportunity and challenge of monetizing mobile, one of the twin revolutions in paid content, is an increasingly essential part of any publisher's digital strategy. Whatever Gazeta decides to do, its willingness to test new online paid content strategies has resulted in a refreshing addition to the paywall debate.
Garrett Goodman does business development for Worldcrunch, which has just added Gazeta Wyborcza as its latest source partner in its global portfolio of foreign-language newspapers. Read Gazeta's journalism in English here.