By Lee Kah Whye 
Weaving product thinking into The Washington Post's newsroom
A successful newsroom product team needs diverse competencies which include knowledge of journalism, software engineering, advertising and marketing. This is the view of Greg Barber, The Washington Post's Director of Newsroom Product.  The multidisciplinary product team that he heads works at the "intersection of journalism and technology."
Barber discussed how the newsroom product team at The Post works across desks and departments to listen and define problems and organise resources to find quality solutions, at the same time updating stakeholders on their progress. They help connect people, and this keeps projects on track, he said.
Many recent projects have revolved around the coronavirus pandemic. One involved journalist Jacqueline Dupree, who was collecting coronavirus data and manually entering this into a Google spreadsheet.
Realising the potential if they could scale this, Barber's team brought together graphics designers, reporters from the investigative group, data analysts and engineers to work on the project.
Together, within six weeks they built a database to house and serve coronavirus data gathered by reporters and from external sources. Today, readers can explore the impact of coronavirus at the local, national and international levels using this interactive graphic tool. 
Another example Barber cited was reporter Harry Stevens' infographic, which explained how diseases like coronavirus spread so quickly. As it became popular, they realised that the story could help people around the world.
The  product team formed a group to help translate and promote the story, which was eventually published in 17 languages and viewed by a few million people. 
Yet another coronavirus-related story that Barber's team helped with was regarding "excess deaths." Reporter Andrew Tran had heard from an expert source that many more people died from the coronavirus than had been officially reported.
A series of stories about excess deaths resulted from the formation of a working group of reporters, editors, artists and analysts, along with a team of epidemiologists at schools like Yale and Harvard.  
There was also a project to help readers understand where the US presidential candidates stood on key issues like gun control, education, climate change and healthcare. Using the tool created by the product team, readers could pick a candidate based on their shared views using an online quiz. 
Also with the help from Barber's team, The Post's graphics team launched an interactive tool which provided US election information, state by state, on matters like how to register, when ballots will be mailed and the deadlines for returning ballots. They also created a tool to help readers understand the impact of each vote based on fluctuations in voting by demographics like race, age, and gender.
Other products that Barber's team has helped launch include the ability of reporters to file short bursts of analysis on political liveblogs, a video trailer anchored by political reporter Dave Weigel, and an analytical feed which brings together the best of The Post's political podcasts. 
They have also launched a resource package providing a history of injustice and inequality that's searchable by topic. Additionally, "About Us" is a stream of reporting on identity politics and culture. 
The upcoming challenge for his team, according to Barber, is how to cover the US elections with a fully remote newsroom. They will also be working on tools that will be used to streamline The Post's hiring process, with an emphasis on diversity and inclusion, hoping that diversity will enliven news coverage.
In 2021, the product team will be working to add features and workflow improvements to their CMS. There is also an upcoming CMS feedback survey next month. 
What these projects all have in common is that they have a very clear problem to solve. These incredible tools and stories were the result of motivated engineering teams willing to incorporate the additional work into their schedules with the support of their managing editors.
Using Slack and Zoom to communicate in a remote work environment, they managed these projects with persistence and collegiality. "Above all, the secret to success as a convenor of people in a news organisation is trust," he said. 
Barber concluded: "With each step you need to prove you are worthy of that investment. Research your idea and be sure that it's solid. Estimate work accurately. Update those estimates regularly. Be honest about successes and failures. Always communicate what the organisation should learn and what you have done. Trust is the key."
Sin Chew's Funnel approach to building reader loyalty and growing revenue
"We know that today, with this limited attention span of our audience and with the stiff competition with everybody, not only news publishers like us, we have to stay very extensive in our presence to build meaningful relationships with the loyalists on different platforms," said Tan Lee Chin, Chief Operating Officer (Content & Commercial) at Sin Chew Media Corporation. 
Founded in 1929, Sin Chew Daily is the leading Chinese language newspaper in Malaysia with a circulation of 300,000. Malaysians of Chinese descent make up about 25 percent of the country's population. 
Tan described their digital strategy as one of reaching out to as many people on various platforms as possible.  Today, besides their website and "Pocketimes" – a short-form video platform they created in 2014 – they are on Facebook, Instagram, Twitter, Weibo, TikTok and Telegram. They have, over the years, built a sizable following on social media platforms. 
With limited resources and multiple audience touch points, they use a three-tier funnel approach to help build deeper engagement with their brand.
At the top of the funnel are people who only occasionally engage with their content. At the second level, the audience is made up of regular readers and those who have signed up for their newsletters, their weekly health talk show, their business digest, or their daily video newscast. The third and final level is the membership tier. This is the ultimate goal of the funnel. The aim is to create incentives to motivate the audience to move from level to level on to the highest level. 
As an example, Tan spoke about their Facebook presence, where they use analytical tools like CrowdTangle to help them understand the performance of their content so they can produce content which their audience likes and publish it at the times they are most likely to consume it. Importantly, they also use tools to benchmark themselves against their competitors' performance. 
When consuming content, users are prompted with "calls to action" to sign up for services like daily news alerts, recommendation links, or to download a Sin Chew app. This moves the audience to the next level in the funnel. 
"Once the audience has reached a critical mass, we look into monetisation. So, it is very important for us whenever we start a venture, a product, we always focus on audience, and then it's very much audience-centric," Tan shared. 
Sin Chew has also developed its Facebook presence into an offering to advertisers who want to connect or engage with its audience, whether it is for brand building, branded content or running a contest. 
To make publishing news stories more efficient, Sin Chew journalists in the field can file stories using their mobile devices, which then go directly into Sin Chew's CMS and editorial systems. 
Another product that has been very successful for Sin Chew is their Health Live Video Series. They started building their health vertical in print in 2017. It now has its own website, weekly newsletter, and video talk shows, attracting many participants. Most are mature readers of their print product.
Following the pandemic, these in-person talk shows have gone virtual.  Since July, there has been a Thursday health talk series which is streamed on various digital platforms, as well. 
"With these talk shows, we have managed to retain, if not grow, our revenue through working with various pharmaceutical and health-related partners. We are moving all these audiences we acquired to our membership programme," said Tan.  
To grow digital revenue, the Sin Chew circulation department has taken on an expanded role and been renamed the "Audience Management and Growth" department, managing audience growth on all platforms, including digital. 
Key performance metrics are also being shifted from print subscription to digital e-paper subscription and digital reader revenue. This is vital in the funnel approach which aims to grow the membership programme. 
In 2019, Sin Chew launched "SCLAB" to fill a gap in their existing sales and business development teams. SCLAB provides an effective one-stop solution for clients seeking to engage with their audience through campaigns on various media: social, videos, infographics, and print.
It also operates as an in-house agency to pitch ideas and execute campaigns in line with clients' objectives and goals. This has been critical in transforming the sales team and in increasing revenue, Tan said.
In another example of innovation and building new revenue, in June, Sin Chew organised a virtual education fair with 26 local and overseas tertiary institution  partners. 
"In many ventures that we have taken up, we find it easier to make important decisions once we identify how it fits into our overall approach to build a super solid relationship with our audience and moving them all the way down the funnel," said Ms Tan. "We realised this prioritised audience approach helps us deliver great potential for monetisation and revenue growth." 
United Daily News' ecommerce story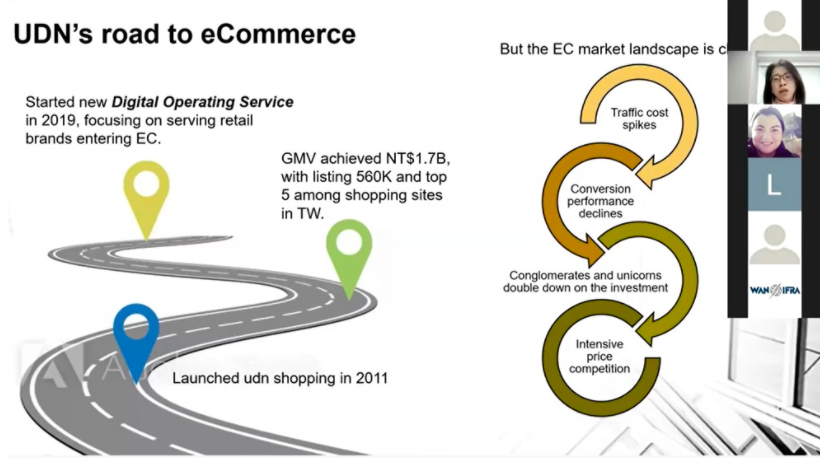 United Daily News Group (UDN) grabbed the opportunity to start an eCommerce business 10 years ago when it was enjoying exponential growth and never looked back. It leveraged its vast reach as a powerful media brand as well as deep insights into its readers to kick-start the business to become the fifth ranked eCommerce platform in Taiwan today. 
Sixty-year-old UDN is among the most respected news publishers in Taiwan. It has the most visited news website with six million members. UDN ranks number two in internet reach and number five in "stickiness." 
"Back at that time, if you have traffic or if you have good traffic on your website, you can pretty much have good sales in eCommerce," said United Digital Intelligence VP, Julie Peng, who is also in charge of UDN Shopping. "The combination of eCommerce and media sites actually happened very naturally."
UDN Shopping generates a GMV (gross merchandise value) of around TWD 1.7 billion (USD56 million) a year.  
The products sold on the website range from technology products like iPhones and laptops to groceries. It sells a wide variety of products with an SKU (stock product unit) of about 650,000 items.
For comparison, a Walmart Supercenter has about 140,000 SKUs. They have a loyal customer base, and the spend per customer is high compared with the competition. 
UDN faced a challenge three to five years ago when, in the midst of increased competition, traffic costs soared and conversion rates plunged along with traffic quality. This caused dissatisfaction among sellers, who are effectively the site's advertisers.
Furthermore, new platforms with deep pockets like Shopee entered the market, offering free shipping and other incentives to attract sellers and customers. They also had to compete with local conglomerates, banks and telcos who have their own eCommerce websites and spent heavily to market their products. 
Customers became a lot more price sensitive and margins began to fall, impacting UDN's bottom-line. 
UDN rose to the challenge by pivoting to help FMCG (fast moving consumer goods) brands develop their eCommerce presence, starting a new business called "Digital Operating Service." 
It was able to do this, not only because of its media background, but also due to employees' knowledge in managing an eCommerce operation built up over the years. 
By analysing user data about buying habits, history, behaviour and preferences when browsing the UDN news website, they were able to help brands match their products with the right customer. They started to build buyers' personas, and this enabled them to help sellers understand why certain products did well and others did not. 
Peng went on to give an example of how UDN's Digital Operating Service helped a diaper brand draw up customer personas by capturing the shopping journey and content consumption of customers. 
From the data they captured, they were able to predict who may be living in the same household, what other products they may be interested in and when they are most likely to shop online in order to determine the best time to send promotions to them. 
They are also able to derive information about the spending ability of shoppers as well as possible products the shopper may be interested in based on their content consumption. 
Through more precise targeting facilitated by UDN's Digital Operating Service, sellers and brands are able to achieve better sales. UDN also helps brands improve their advertising campaigns and marketing strategies and highlights any upsell and cross-sell opportunities.  
"We are actually acting like their marketing consultant for brand retail. We can provide them with insights, share this insight with them, work with them. Maybe we can co-work with them for their marketing and product strategy," said Peng.
About the author: Lee Kah Whye is Director at Project Mercury, a media business consultancy. Before this, he spent nearly 20 years at Reuters and was head of the news agency business for Asia.   
Edited by Bill Poorman